Encouraged from the success of organizing Family Day on passed year, Peipsi CTC is collecting donations for the Peipsi region Family Day, which will be organised for the families with low income, who live in Kasepää municipality. Family day events take place on January 3, 2015.
Why Peipsi Family Day?
When to most of us, going to cafes or museums or have family weekend trip is normal part of life, then there are also plenty of children, who have never been in a restaurant or visiting a museum or workshop with their parents.

Unfortunately, Lake Peipsi communities remain one of the most underdeveloped region in Estonia. So, there are many families who are not familiar with the beautiful landscapes, interesting attractions and exhibitions of their home community, mainly because of financial constraints.

For Peipsi Family Day, on January 3, we need to collect 893 euros (to cover bus transport, food, handicraft workshop cost for 30 people). The Estonian Council Of Gambling Tax supports the event with 698€, the rest of sum 195€ we hope to collect as donations. If there will be more donations, then we can buya little good year present for Peipsi Family Day participants!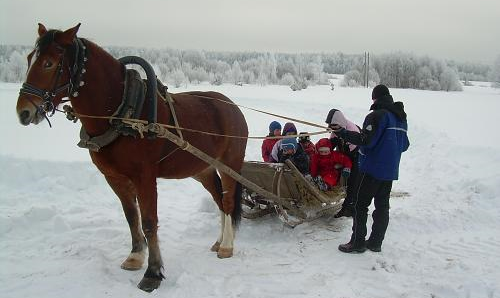 Planned Peipsi Family Day activities
10:00 Meeting familys in Kasepää
10:45-11:45 Visiting Iisaku Museum
11:15-12:30 Horsesledging in Avinurme
12:30-13:15 Lunch
13:15-13:45 Getting to know Avinurme Center of Lifestile exposition
13:45-15:30 Handicraft workshop to prepare chip basket in Avinurme barrel factory, smaller kids have activities according to their age.
The Family Day takes place in the first weekend of the year 2014 and we believe it would be a beautiful start for the New Year, and hopefully initiates many more joint activities for these families.
The Family Day is planned for 30 people and is organised by Peipsi Center for Transboundary Cooperation. Organising team consists of Peipsi CTC members Katrin and Eleri, with the help of our volunteer - Julija.

Please make your financial contribution to:
Account holder: Peipsi Center for Transboundary Cooperation
Account Nr. 221012449629
IBAN code EE532200221012449629
SWIFT code HABA EE2X
Bank Swedbank
Bank Address Liivalaia 8, Tallinn 15040; ESTONIA

For more information contact:
Eleri Seer
gsm: +372 55555109

Peipsi Center for Transboundary Cooperation
Puiestee 71a, Tartu 51009, Estonia
www.ctc.ee